Did you know that the first manhole covers were little more than pieces of wood or slabs of stone? These covers permitted access to covered trenches carrying sewage and were in use as early as 3500 BC! The design wouldn't change until the mid-19th century.
Why the change? The advent of cast iron technology. For the past 200+ years, American ironworks have constructed cast iron manhole covers.
Some have weighed as much as 300 pounds. What's more, they've come in a wide variety of sizes and shapes, including rectangular and square. Ready to learn more about utility hole covers and the intersection between public safety and custom options?
Keep reading for our complete guide to cast iron maintenance hole covers.
Manhole Covers Past and Present
Manhole covers remain integral to our everyday lives. But so many of us take them for granted. In New York City alone, hundreds of thousands of maintenance holes remain scattered through the five boroughs.
Their covers were installed by both city-owned utilities and privately owned businesses. No matter who they belong to, these covers continue to faithfully do the job of keeping a lid on things, so to speak.
While NYC has changed immeasurably over the past century, some of its most historic cast iron gems remain in place. They bear silent witness to another time and place as they continue to do their jobs.
If you look closely enough, you may even stumble across little-known aspects of the city's past, including long-forgotten foundries, businesses, and local utilities. Of course, the same holds true for other metropolises across the nation, from Boston to San Ftrancisco.
Examples include the cover of an old coal chute on St. Luke's Place in the West Village. You'll also find a cast iron homage to the Manhatten Refrigeration Company in the Meatpacking District and a square Consolidated Telegraph and Electrical Subway Company cover.
Like utility hole covers today, these relics were both customized to suit NYC's esthetic and crafted for practical purposes. The raised designs helped keep carriage wheels and horse hooves from skidding and skittering over wet roadways.
Public Health and Manhole Covers
Today's manhole covers are typically round-shaped and manufactured from cast iron, concrete, or a combination of the two. As a result, they prove inexpensive, heavy, and long-lasting. Unlike the 300-pound behemoths of the past, most weigh about 110 pounds (50 kg).
Everything about these covers serves a purpose. For example, their weight ensures they stay in place despite heavy traffic from automobiles. This weight also deters thieves from stealing them as well as other unauthorized people from removing them.
While heavy-duty manhole covers may vary in terms of details, composition, and form, they must all meet the same basic needs:
Safeguarding people from falls and the filth and sewage that lies beneath the streets
Suppressing and preventing unwanted and foul odors from escaping into the streets, particularly sewage gases (e.g., hydrogen sulfide)
Securing cabs and cars from falling into holes
Preventing and stopping unwanted vehicular accidents caused by open maintenance holes
Imagine a city without utility hole covers. The various dangers would be extraordinary. For example, overexposure to hydrogen sulfide or sewage gas can lead to everything from headaches and eye irritation to unconsciousness and even death.
Manhole covers rescue the public from countless perilous situations daily. Of course, we give them very little thought. That is until circumstances necessitate purchasing a custom maintenance hole cover for your property.
What You Need to Know About Manholes
We can't examine manhole covers without briefly addressing the shafts that they hide. What are manholes, and why do they exist? These vertical access shafts permit passage from the ground surface to a stormwater line or sewer.
Maintenance holes typically occur at junctures. They allow workers access for inspection, cleaning, connections, and repairs. For example, workers may need to descend into a utility hole to clear away debris or obstructions within stormwater lines or the sewer system.
Manholes and their covers also assist in the ventilation of dangerous gases from sewers. These volatile gases can lead to explosions under the right circumstances. Maintenance holes also make it easier for municipalities to join stormwater or sewer systems.
Manhole Locations Matter
Maintenance hole locations permit redirection and realignment of underground systems as needed. Utility holes allow stormwater and sewer systems to be constructed in convenient lengths. For these reasons manhole covers are typically found at the following locations:
The juncture of two stormwater or sewer lines
Places where the grade of stormwater or sewer lines change
Locations where stormwater or sewer lines change in size
Spots where stormwater or sewer lines change in alignment
In other words, utility holes get systematically and periodically placed along stormwater and sewer lines. That way, they provide ease of maintenance and access. Besides these considerations, they're also placed strategically based on the diameter of the lines.
Types of Manholes
Many people are surprised to learn about the variety of different maintenance holes out there. Each type of manhole serves a unique purpose. They include:
Shallow manholes
Normal manholes
Deep manholes
Shallow maintenance holes refer to inspection chambers. They run approximately two to three feet deep, and they're located at the start of a stormwater or sewer line branch. These locations don't typically see heavy traffic.
As for what we refer to as "normal" utility holes, these excavations typically run about five feet deep. You'll find them located along stormwater and sewer lines. You'll see these holes covered with rectangular or square-shaped covers.
Finally, you have the manholes with which we're all most familiar. (Well, at least we're familiar with their covers). These are the utility holes covered with heavy-duty cast iron covers that are round in shape.
Any manhole descent greater than five feet is considered a deep maintenance hole. Because of their depth, these manholes typically include built-in ladders or another method of entry. They always come shielded by a heavy cover.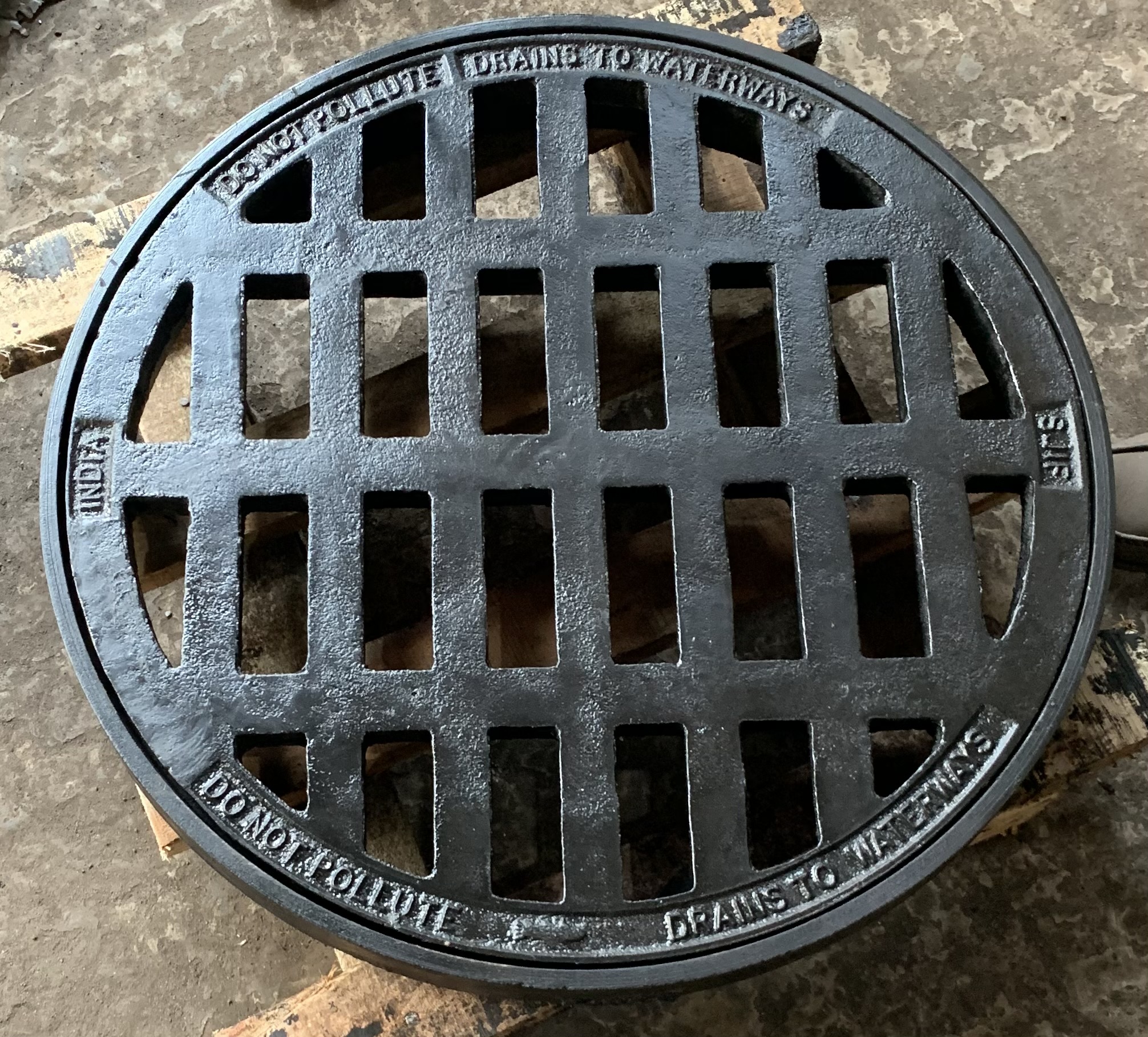 How Manhole Covers Get Manufactured
Manhole covers get manufactured at plants known as foundries where cast iron gets made. The casting process includes five steps:
Designing the pattern
Preparing the mold
Melting and pouring the cast iron
Cooling the metal
Finishing the cover
This casting process results in a heavy-duty cover that can stand the test of time. It's also a process that allows for a high level of customization, design, and artistry.
Many businesses are opting for utility hole cover branding to solidify the appeal of their facade. Customized manholes can be integrated beautifully into the esthetic of your establishment, neighborhood, and city, adding a touch of professionalism.
Custom Manhole Covers
In the 19th-century, manhole covers often represented veritable works of art. In well-appointed Victorian neighborhoods, they might include exquisite floral designs or quaint advertisements to local foundries and businesses.
Besides manufacturing these covers, foundries also specialized in:
Coal hole covers
Furnace grates
Boiler castings
Dumping grates
In essence, these infrastructural advances split the difference between utility and decoration. Some were emblazoned with the logos or names of ironworks. Others showcased intricate designs meant to attest to the homeowners or business's affluence.
Many people don't realize that you don't have to settle for a run-of-the-mill manhole frame and cover today. Contrary to popular belief, you can still create utilitarian pieces that are also eye candy. Or you can have utility hole covers created as a shout out to your business or city.
The best custom manhole covers offer the perfect balance between intrinsic hardiness, longevity, and enhancement of your immediate surroundings.
Places for Custom Manhole Covers
Where do homeowners and businesses place custom-designed manhole covers? They work beautifully in a variety of locations, including:
Walkways
Driveways
Roadways
Campuses
Parking lots
When it comes to the design for your sewer cover, the sky's the limit. Custom maintenance hole covers can be cast with ornamental designs, university of college mascots, business logos, and even the slogans of municipalities.
Whether you want to give a walkway some extra pizzazz or unify a neighborhood or cityscape, think of cast iron manhole covers as empty canvases. They're ripe with potential and possibility.
How the Custom Manhole Cover Design Process Works
Before selecting the right custom manhole covers for your needs, there are a few things you need to keep in mind. For starters, custom lids can be cast, so the entire utility hole frame doesn't need to be changed.
Just replace the current manhole cover lide with the same size and a custom logo. Voilà, you've got a brand new look.
What does the process look like? Start with a consultation with a custom casting company. During this consultation, you'll discuss your ideal design.
Based on this conversation, the company will then craft a CAD drawing of the proposed project. Once the customer has agreed on this design, the the mold and pattern get fabricated.
From there, the company will cast and pour an initial design that the customer then approves. Following approval, the final piece will be manufactured.
Because custom manhole covers garner plenty of attention, they should come crafted with bolts for added security. You should also ask about which grip and cover styles may be available.
Find out more about the process of having custom manhole covers manufactured for your property or establishment.
Streamlining the Look of Your Property
Custom maintenance hole covers represent the ideal balance between utility and esthetic concerns. They're durable and will mark your property as unique for many years to come. But you don't have to stop there.
There are a wide variety of pieces that can be manufactured to streamline the look of your property, neighborhood, or city. They include:
Catch basin frames and grates
Inlet frames and grates
Other municipal castings
Precision manufacturing
Valve boxes
When you work with experts that place a premium on quality and decorative principles, they can help you streamline the look of your entire property. Get ready for curb appeal like you've never had before.
How to Find the Best Custom Casting Company for Your Needs
When it comes to finding the right custom casting company, don't settle for anything less than extraordinary. After all, you want to "wow" and stun with your custom utility hole covers. And you want to step outside of the ordinary.
What should you look for in a company that specializes in manhole covers, castings, catch basins, frames, and more? They should be properly certified and approved. That way you know they take quality seriously.
After all, these municipal and construction industry items must stand the test of time. They should also offer competitive pricing. That means affordability both in the pricing of singular units and multiple-unit orders.
Ramp Up Your Curb Appeal
Whether you're looking to dress up your home or a whole district of your city, custom utility hole covers will do the trick. What's more, you've got endless options when it comes to customizing them for one or more properties.
Not sure where to start? No worries. We've got you covered.
American Cast Iron Products has been revamping and revolutionizing the waterworks, sewer, and construction industries since 1989. We excel at bringing to life custom projects that are both highly functional and highly decorative.
Bring Your Concept to Life
Custom manhole covers and other utility hardware don't have to be relics from the past. You can still reinvigorate your property today with one-of-a-kind pieces that marry artistry and utility. You'll be amazed by the fantastic results.
Our products can be found in tunnels, stadiums, bridges, and roads nationally and internationally. They've stood the test of time and done so beautifully. Contact us to discuss your esthetic goals and how we can help you bring them to life.